Introducing Reserva OMS:
A startup friendly Order Management System
As we continue to support small businesses, we are extremely pleased to announce our newest plan for small companies, Reserva OMS Light. 
For over 10 years we at Reserva have been working to provide small and medium size produce businesses with an alternative to expensive, complicated software. Along the way, we have built the most complete and affordable ERP software for agribusinesses. Our mission is to provide industry-leading tools to help our partners stay competitive and grow. From our industry-specific CRM app to our powerful liquidations app,  our customers agree that there is no better choice for a growing produce business. Our customers love Reserva's ease of use and our unmatched unlimited customer support. 
We want more companies to enjoy the benefits of a proper order management system (OMS), including full traceability, invoicing, payments, and inventory tracking. And here's the exciting part: Reserva OMS works with Quickbooks. You get to keep your accounting in Quickbooks while Reserva does the heavy-lifting for your produce operations. 
Sales Orders, Pickup Tickets, Bill of Lading, Invoices -all in one place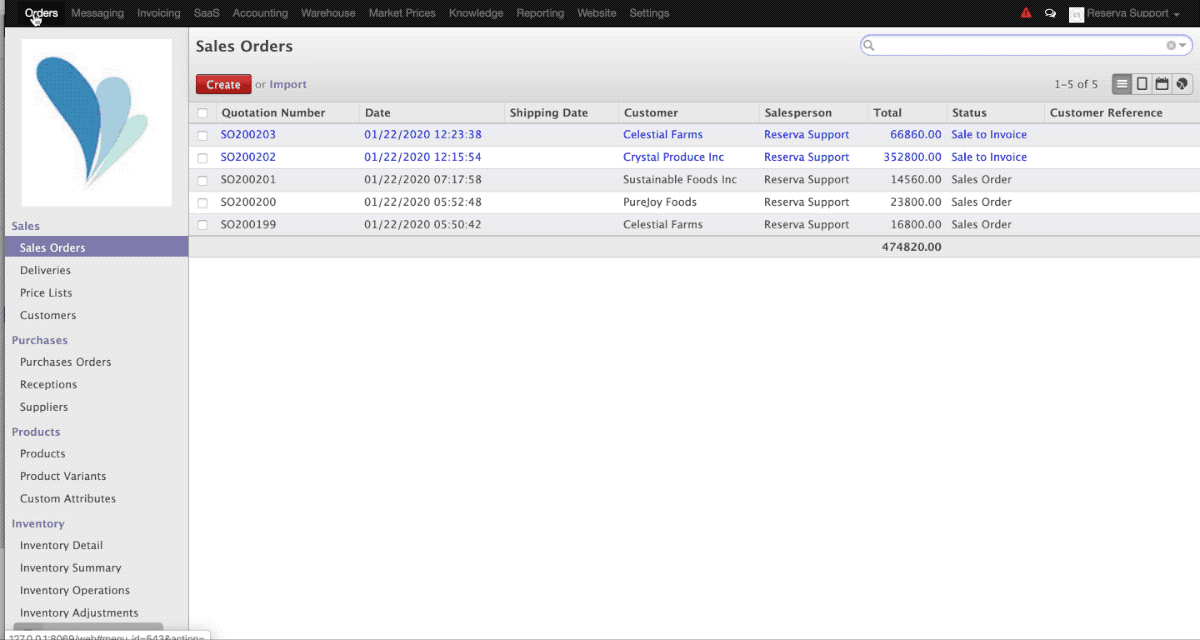 Sales and Invoicing
 
Sales Orders
Bill of Lading
Deliveries
Pricelists
Lot reservation
Invoicing
Claims and credits
Purchases and Payments
 
Purchase Orders

Receptions

Grower Portal

PO Expenses

Grower invoicing

Grower payments

Claims and credits
Inventory Management
 
Inventory Tracking

Lot/pallet barcodes

Food safety/recall

Grower Inventory

Full traceability
Works with Quickbooks
You don't need to change your accounting system.
Reserva integrates with Quickbooks. Leverage our powerful order management system while keeping your accounting software. 
Reserva OMS Light is just $99/month
We are waiving the implementation fee on the first 99 companies to sign up. Just pay $99 to open your account, and pay as you go.